Erika with Rika's Kitchen – Artisan Corn Tortillas
Where are you originally from, and how long have you lived in the area?
I am originally from the DFW area with deep-rooted family history in Texas. End of 2020, I moved to Austin in search of more time in nature and trails to explore. While living in Austin, I fell in love with Wimberley and decided to move here with my family in July of 2022.
Tell us about your business.
My name is Erika, or Rika as my family and friends call me! Hence, the name "Rika's Kitchen." I started the adventure of bringing authentic, organic, and artisan Mexican cuisine to my table for my loved ones to enjoy.
Now I have the honor and joy of sharing that same passion and love for delicious, healthy food to more tables than I can personally feed.  I love taking the extra step to ensure the flavors pop and to deliver an optimal dining experience from my home to yours! The artisan corn tortillas has been the first step of many ways I can imagine sharing authentic cuisine paired with a cultural experience for others to enjoy and share in. Making the corn tortillas is an art and an ancient one at that. I Source heirloom corn from small growers and farmers across the various regions of Mexico and go I through the an ancient process that cook the corn in a way that brings out and magnifies the nutrients and flavors. After a long process of cleaning, cooking, and nixtamilizing the corn I then make the masa, roll the tortillas, press them and cook them. Making the process overall about 48 hours to complete. This has truly become a labor of love.
What brought you to open your business? What did you do previously? What was your inspiration to start?
The idea for Rika's Kitchen came from an intense desire and passion for nourishing the mouths of others with quality, flavorful, and authentic Mexican cuisine. I finally noticed that nothing brings me more sense of fulfillment than when I cook a meal out of love and see the pleasure it brings my loved ones. So naturally, I wanted to share that with more people! When I moved to Wimberley this past July, I quickly discovered that I no longer had access to artisan corn tortillas from Whole Foods. Just the catalyst I needed to begin my journey of making freshly ground corn tortillas with the purest ingredients. A staple to the Mexican dishes I love. My mission with Rika's Kitchen is to provide artisan Mexican cuisine to the market with thoughtful recipes for maximum health and quality of life.
Previously, I was and still am quite frankly a product marketer in the world of IT. While my career has been fruitful and challenging (In the best way), I am excited to take a step of faith toward the vision and purpose I believe God has for my life. I will consider myself successful if I can spend my life sharing the gifts and desires God has given me.
What do you enjoy most about being an entrepreneur?
The opportunity to create and the possibilities that are only limited by my vision.
What makes you unique?
My commitment to expressing the desires of my heart in what I do for people to enjoy.
Can you tell a few things you offer?
Artisan Corn Tortillas 
Nixtamal (the soaking processes that brings out the nutrients and flavors of the corn) 
Types of corn tortillas:
current flavor of the month: Guajillo Chile 
What is your favorite part about what you do?
I'd have to say its the act of creating. I get to use my hands to transform a kernel of corn into masa into delicious food. I love the process because it represents human ingenuity (corn itself was an invention of man), culture, and community or a way of life. To be able to take something from scratch and work for the yielded results has been very rewarding.

What does the future look like for you and your business?
In the future I'd love to be a staple at the farmers markets across hill country, creating and testing new recipes that use masa in creative and unique ways, and sharing the recipes in vlogs and blogs! Ultimately, my vision is to help others create experiences at their own tables with artisan tortillas, salsas, and chips that will bring them together. I can see expanding that reach with a recipe book and a bed and breakfast one day! The vision and big, the mission is narrow, and the opportunities are endless. For now, Ill begin with the first step.
What advice would you give to others that want to start something new?
I think its human nature to delay action due to fear of the unknown. Not having the answers to future foreseeable obstacles like, "where will I get the money," or "how will I scale beyond x amount" can prevent us from ever even starting the journey. What I try to live by is Faith in believing that if I take the first step I will unlock the key to the next and the next. I see it like a video game… here me out! In a video game you can't advance to the next level until you go through the previous levels. To get the "key" that unlocks the next level you have to overcome the obstacles that are currently in front of you. As spoken in the book of Matthew: "Therefore do not worry about tomorrow, for tomorrow will worry about itself. Each day has enough trouble of its own."I have found that each time I overcome one obstacle I feel more confident to keep forging ahead.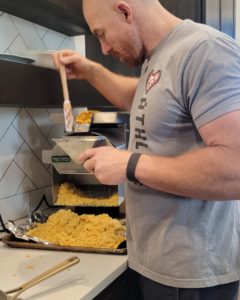 Any advice for juggling all the things in daily life?
I will admit, juggling "all the things" is very difficult and I don't even have kids yet (unless you count my precious doodle). Between my corporate job and growing my business, being intentional about my spiritual and emotional growth, and investing time in the relationships I want to grow, "I'm booked" as the Grinch says… lol sorry couldn't help it. But seriously, I attempt daily to protect my time across four key areas of my life: delight, rest, work, and growth. I'll be honest, some days they are very off balance, and other days I manage to make time for all four! Those are my favorite days. However, life happens. Variables get thrown our way and when that happens its best to pause and recalibrate. Personally, I have to do this weekly at times, but if we aren't being intentional about our most precious resource – time, then it will be taken for us and the outcome usually doesn't serve us. In two words, time management is CRITICAL! How to do that successfully depends on your priorities and intentions.